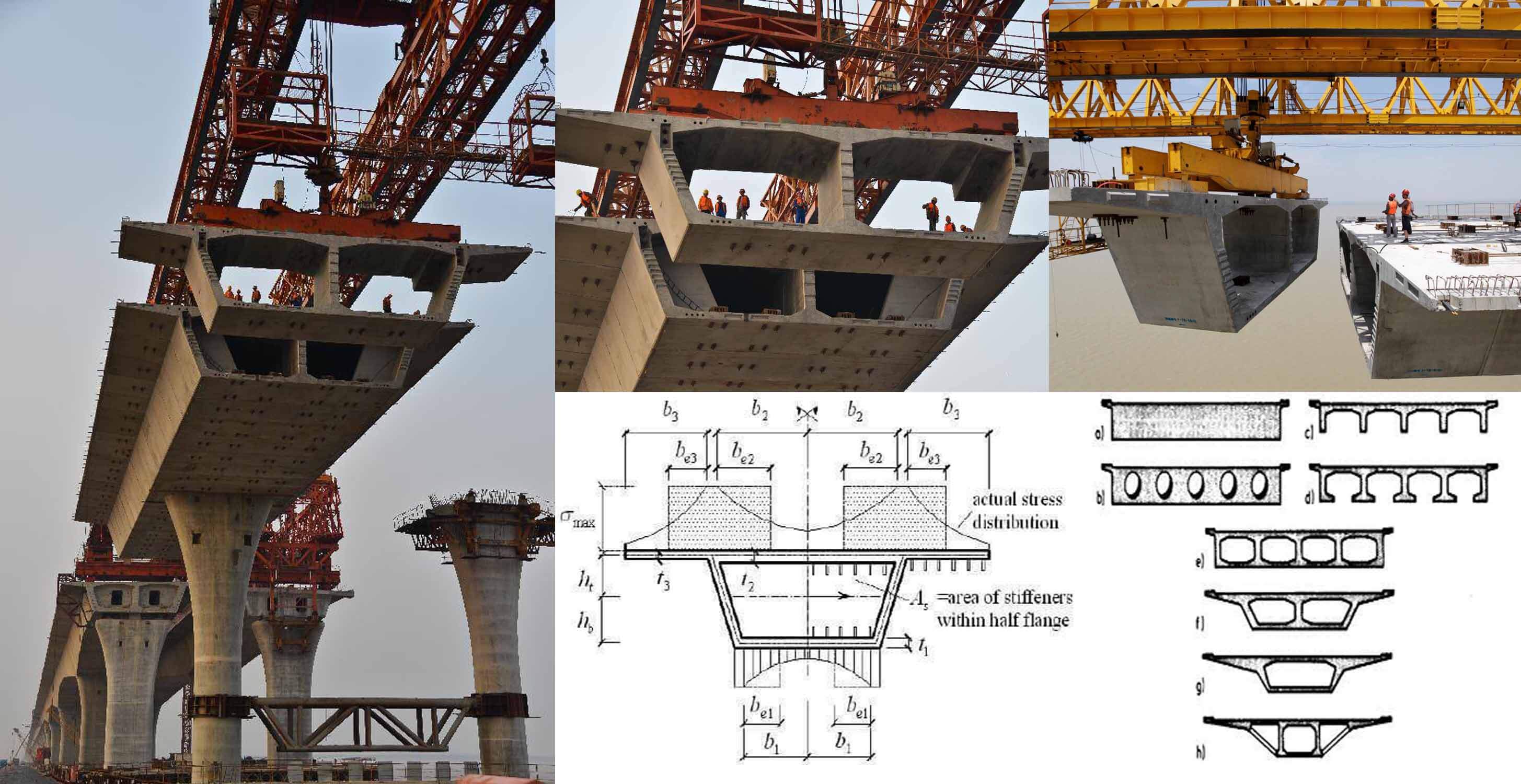 A box girder (also known as a tubular girder) is a bridge in which the main beams comprise girders in the shape of a hollow box. The box girder normally comprises either prestressed concrete, structural steel, or a composite of steel and reinforced concrete. The box is typically rectangular or trapezoidal in cross-section. Box girder bridges are commonly used for highway flyovers and for modern elevated structures of light rail transport. Although normally the box girder bridge is a form of beam bridge, box girders may also be used on cable-stayed bridges and other forms.
Construction
If made of concrete, box girder bridges may be cast in place using falsework supports, removed after completion, or in sections if a segmental bridge. Box girders may also be prefabricated in a fabrication yard, then transported and emplaced using cranes. For steel box girders, the girders are normally fabricated off-site and lifted into place by crane, with sections connected by bolting or welding. If a composite concrete bridge deck is used, it is often cast-in-place using temporary falsework supported by the steel girder.
Either form of the bridge may also be installed using the technique of incremental launching. Under this method, gantry cranes are often used to place new segments onto the completed portions of the bridge until the bridge superstructure is completed
Applications
1- It is used for modern elevated structures of light rail transport.
2- Box girders are used for the construction of a cable-supported bridge, curved bridge, and footbridges.
3- It is rarely used in buildings, but they may be used in special circumstances, such as when loads are carried eccentrically to the beam axis.
Specifications
1- It can cover a range of spans from 25m up to the largest non-suspended concrete decks built; of the order of 300m.
2- Single box girders may also carry decks up to 30m wide.
3- For the longer span beams, beyond about 50m, they are practically the only feasible deck section.
4- Below 30m precast beams or voided slab decks are more suitable while above 50m a single cell box arrangement is usually more economical.
5- Single-cell box girder cast-in-situ are used for spans from 40m to 270m.
6- The box arrangement is done in order to give aesthetic appearance where the web of the box would act as a slender appearance when combined with a slim parapet profile.
7- Single box arrangements are effective for both the longitudinal and transverse designs, and they produce an economical solution for medium and long-span structures.
8- Single box deck is constructed span-by-span, using full-height scaffolding or trusses, or as balanced cantilever using form travellers. This could be particularly important for medium length bridges with spans between 40m and 55m.
Advantages of box girders
1- Reduce the requirement for support points
2- Have high strength and torsional stiffness that give greater and better suitability for horizontally curved bridges
3- Ensure enhanced durability
4- Require minimum maintenance of simple protective coatings as these have less exposed surface and only a few edges
Disadvantages
One of the principal burdens of box decks is that they are hard to cast-in-situ because of the detachment of the base piece and the need to remove the inward shade. Either the container must be outlined so that the whole cross-area might be thrown in one nonstop pour, or the cross-segment must be thrown in stages.
Uses of box girder bridges
1- Footbridges — Box girders are used for footbridges over 30m span. Box girder footbridges use an all-steel configuration as the entire cross-section including the parapets can be fabricated.
2- Railway bridges — The only option to accommodate the railway bridges where the construction depth is tightly constrained is box girders.
3- Highway bridges — These comprise composite box girders, curved bridges, cable-supported box girders and steel box girders.
Share this