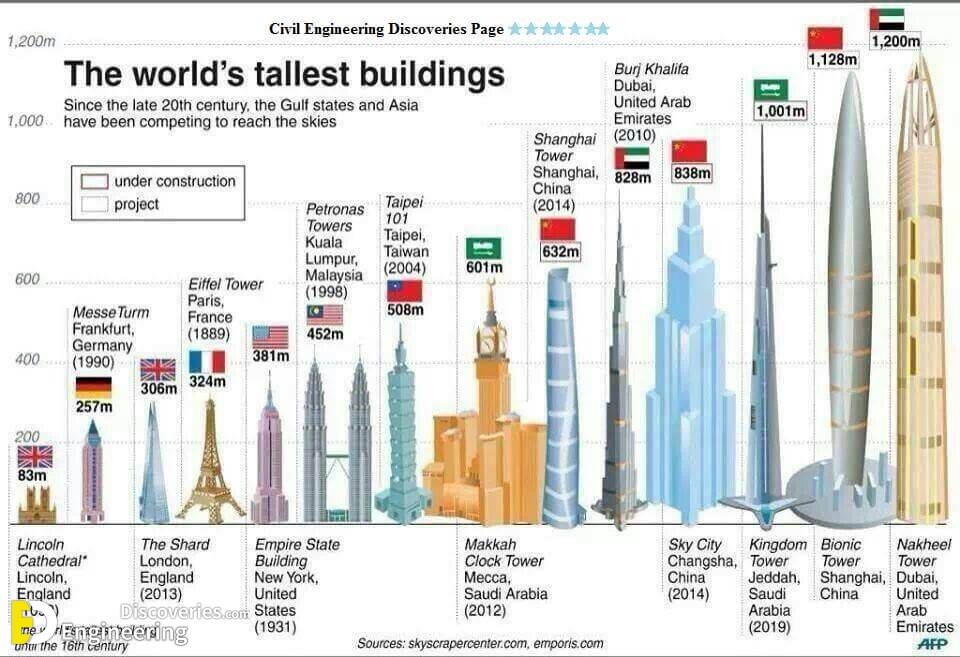 The ten tallest buildings in the world will take your breath away when you see them. As civil engineering technology improves, the world's buildings become taller and taller with more and more impressive architecture. The latest ultra-tall building in the world is planned to be 2,400 meters (7,900 feet) tall. It will be called the Dubai City Tower in the United Arab Emirates.
Second tallest planned building, Shimizu TRY 2004 Mega-City Pyramid, will be 2,000 meters (6,561 feet) tall and built-in Tokyo Bay, Japan. Third, also planned to be built in Tokyo Bay, is the Sky Mile Tower. The proposal calls for a 1,700 m (5,577 ft) tall building. If built, these proposed buildings will break all existing world records by a wide margin. The Burj Khalifa currently holds the record for the tallest completed building in the world at 828 meters.
List of the 10 Tallest Buildings in the World
Here is the list of 10 tallest buildings in the world that are either completed or actively under construction.
| | | | | |
| --- | --- | --- | --- | --- |
| Name | City | Height (m) | Completed | |
| Jeddah Tower | Jeddah | 1000 | 2021 | concrete |
| Burj Khalifa | Dubai | 828 | 2010 | steel/concrete |
| Dubai One | Dubai | 711 | 2022 | |
| Tianfu Center | Chengdu | 677 | 2023 | |
| Shimao Shenzhen-Hong Kong International Centre | Shenzhen | 668 | – | |
| Wuhan CTF Finance Center | Wuhan | 648 | 2022 | composite |
| PNB 118 | Kuala Lumpur | 644 | 2021 | |
| Signature Tower Jakarta | Jakarta | 638 | 2022 | composite |
| Wuhan Greenland Center | Wuhan | 636 | 2019 | composite |
| Shanghai Tower | Shanghai | 632 | 2015 | composite |


For More Information Watch This Video
Share this